Raised a Southern California sun loving native, Shelley moved slightly north for college, receiving her BA from the University of California, Berkeley. Having parents and grandparents who were immigrants from Europe instilled an insatiable desire for travel, which she did-from Ireland to Greece during her college years. Upon graduating from Berkeley, Shelley spent 4 years in Asia, Southeast Asia, and Australia teaching and travelling. After this experience, she decided to challenge herself, and her ability to adapt to climate, by moving to the tiny ski town of Girdwood, Alaska. The next series of years allowed her to use her accounting background in a variety of positions in both the public and private sector. Due to her husband's career path, there were several more exciting moves with the family –around Alaska, to the Big Island of Hawaii, back to Southern California and eventually to Colorado in the fall of 2015.
"This is my first experience working with an engineering firm and one job perk is the view from the front lines of the river restoration projects. It is beautiful and inspiring to see the process and feel a connection to the improvements in your immediate environment. My position as office manager allows me to work with an amazing group of people who are motivated, sincere, professional, and committed to excellence. They also know a lot of great fishing spots, which is key since my family and I love to spend time on the water!"
When not attempting to organize an office full of engineers, you will find Shelley hiking, biking, skiing, or chauffeuring her kids to their extracurricular events, where she inevitably, and most often happily, ends up on volunteer duty!
My position as office manager allows me to work with an amazing group of people who are motivated, sincere, professional, and committed to excellence."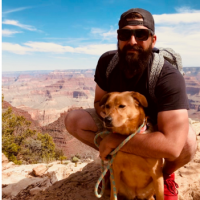 Growing up in rural Wyoming Tyler has always been connected to the outdoors,