Dave's passion for the outdoors has steered his career. Receiving his B.S. in Environmental Resource Management from Pennsylvania State University specializing in wetland science and stream ecology, was just the beginning.Colorado proved to be a perfect match for Dave, and he has become personally vested in the balancing of various environmental demands and the vital stream components needed to host a healthy, self-sustaining ecosystem. Throughout his career he has strived to develop an innovative, multidisciplinary philosophy towards environmental solutions. As co-founder of ERC in 2000, the goal of creating a company that provided environmental services to restore and optimize the ecological functions of stream systems using proven techniques that are structurally sustainable, ecologically balanced and aesthetically appealing, has proven to be both challenging and successful.
Dave's 20+year professional career encompasses providing consulting expertise to clients in stream restoration/fisheries enhancement, wetland ecology, regulatory compliance and ecological restoration. "I believe in a holistic approach, as such, ERC's mission has always been to provide an enhanced stream system which is natural in appearance, provides a diverse range of aquatic and terrestrial habitat types and is self-sustaining over time."
Dave's personal time is spent enjoying the great Colorado outdoors with his wife and son, fly fishing local water, classic western rivers and tropical flats. When the waters freeze, he can be found skiing Colorado's world class powder.
I believe in a holistic approach, as such, ERC's mission has always been to provide an enhanced stream system which is natural in appearance, provides a diverse range of aquatic and terrestrial habitat types and is self-sustaining over time."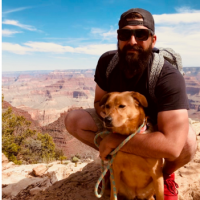 Growing up in rural Wyoming Tyler has always been connected to the outdoors,