Alan joined the ERC team in 2020; Originally from Louisiana, Alan grew up around the Mississippi River delta and learned to love and appreciate water through the nearby rivers, lakes, and bayous. After receiving his B.S. in Civil Engineering from Louisiana State University, he headed west to get his M.S. in Hydrology from Colorado School of Mines. Alan has since worked in the water resources engineering field in Denver.
"Alan has worked on various water resource projects throughout Colorado and neighboring states. He has been able to use his experience in surface water hydrology, hydraulic modeling and design, civil design, GIS, hydrological field methods, and construction to efficiently manage water for environmental and water resource needs."
When not in the office, Alan enjoys being outside climbing, running, hiking, backpacking, camping, and skiing. He also enjoys music, soccer, and cooking.
I am excited to join the ERC team and look forward to broadening my skills into stream restoration and geomorphology.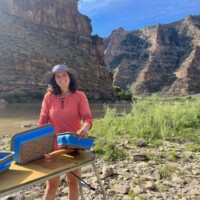 Monika grew up camping under the towering redwood trees in California. She loves the outdoors and after earning her B.A. from UC Berkeley became a seasonal outdoor educator.