Heather received her B.S. degree in Civil and Environmental Engineering from Cornell University and a M.S. degree in Water Resources Engineering from the University of Colorado.
She has been enmeshed in the field of water rights engineering, water supply planning, and surface water modeling in Colorado for almost 25 years. Her specialties are environmental permitting projects, development and application of surface water allocation models, water rights investigations and water supply planning and drought analyses. "I gravitated toward water supply planning and modeling because of the multitude and complexity of issues facing public and private water supply providers in Colorado." The challenges these entities face are incredibly varied and there is no one solution as each situation has its own intricacies. "My goal is assisting water providers and enabling them to successfully address their water supply needs. In this regard, I have developed and applied several complex surface water allocation models using a variety of commercial and owner generated models, including StateMod (CDSS Model), PACSM, BESTSM, and MODSIM. I thoroughly enjoy the challenge of representing a complex river basin or raw water supply system with a model. I'm particularly proud of the key role I played on two significant reservoir permitting projects, which include Denver Water's Moffat Collection System Project EIS and the Windy Gap Firming Project EIS." Heather's involvement in these projects from initial planning through final permitting spanned well over a decade. Her commitment and continuity on these projects proved essential in maintaining productive communication with state and federal agencies, avoiding setbacks, and ultimately achieving the required permits.
When she escapes the office, Heather enjoys traveling, biking, trail running, rafting, skiing and spending time outdoors with her family taking advantage of all Colorado has to offer!
"I gravitated toward water supply modeling and planning because of the multitude and complexity of issues facing public and private water supply providers in Colorado."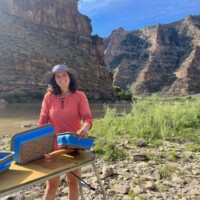 Monika grew up camping under the towering redwood trees in California. She loves the outdoors and after earning her B.A. from UC Berkeley became a seasonal outdoor educator.