Born and raised in Colorado, Hayden has been working and playing outside ever since. He graduated from Colorado State University with a B.S. in Civil Engineering and minor in Ultimate Frisbee. After spending time as a fly fishing guide, adventuring down the west coast by bicycle, and a stint as an engineer in the internet-computer-tech work world, he searched out a career path that would allow him to combine his passion for the outdoors and recreational pursuits with a viable income.
In 2006 he began his current career, earning his PE license in the states of Colorado, Wyoming, and Nebraska. His 11+ years of experience in Water Resources Engineering encompasses ground water modeling, aquifer storage and recovery projects, supply planning, well drilling oversite, mine-water supply studies, surface water modeling, construction management, and his specialty-water rights including water court support and expert testimony.
In May 2015, my wife and I left the suburbs of Denver for the foothills of Evergreen and I joined ERC with the goal of again expanding my engineering world, this time to include stream design and restoration, hydraulics modeling, and to join a unique team working on complex water rights issues in an expanding environment with a multitude of end users.
When not at work, you can find him raising two girls or planning a family float trip down one of the many great rivers in Colorado. "While I haven't figured out how to backpack or bike tour with two kids under the age of three, I'm working on it." He also volunteers regularly for Denver Summer Ultimate League and continues to play Ultimate Frisbee.
"I joined ERC with the goal of again expanding my engineering world, this time to include stream design and restoration, hydraulics modeling, and to join a unique team working on complex water rights issues in an expanding environment with a multitude of end users."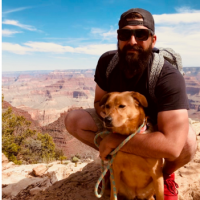 Growing up in rural Wyoming Tyler has always been connected to the outdoors,